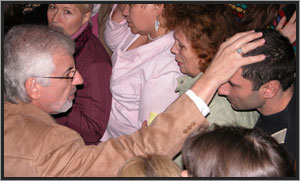 Welcome to Freedom Ministries International website! We sincerely have one desire to see souls saved, set free and bear forth fruit for our beloved Lord and Savior. Our ministry is made up of Jews for Christ and Christians for Israel. Please feel free to browse our site, sign up for our quarterly newsletter, become a partner or learn how to have Rev. Igor Ashkinazi minister in your church, bible study or conference.

FMI quarterly newsletter will keep you abreast on the work we are doing both here in the states as well as overseas. It is replete with pictures on location and testimonies.

For those that support us through prayers, finances and letters of encouragement, it serves as a reminder to you that you are there with us reaching the lost for Christ.

Please sign up today and those of you who love Israel and desire Jewish people to be saved will be encouraged as you see your prayers being answered.
Beit Hofesh
Manhattan Services:




Saturdays




1:30pm - 3:00pm

109 E 31 St.
New York, NY 10016
Brooklyn Church

Russian Services:
English Services:
1009 Brighton 11th St, 2nd Fl,
Brooklyn, NY 11235
FMI Office Address
4 Apollo Dr